Todoki 
is a
Senshi
general and supporter of
Arisaka
, his symbol is a green ox, he appears in
The Emperor of Nihon-Ja
. He was killed in a brief dual with
Horace Altman
.
He is one of Arisaka's most ardent supporters. Halt and Will lead an attack on him and his troups using the gojus  in The Emperor of Nihon-Ja.  His position meant that he was open to attack from the secret pass leading out of the Ran-Koshi valley which Will takes advantage of.  
Halt goads him out of his tent by setting it on fire using one of his special fire arrows.  The tent is oily to combat the rain so it lights instantly, the fact that his tent is set ablaze makes the volatile Todoki angry. 
When Todoki's troops start to retreat when faced with the gojus he becomes very angry and shouts abuse at the people attacking and his own men.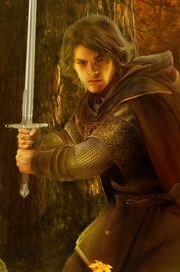 Eventually Todoki is killed by Horace in a very short sword fight between the two which earns Horace even more support from the Kikori.