Swords
are weapons, usually used by knights or their equivalents. The sword usually has a hilt of some sort, a crossguard, and a blade of steel.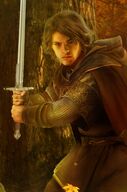 Cavalry Sword (Also known as a Riding Sword)
Gladius: a short, double sided sword. It is mostly used by the Toscanan Centuries and the Iberian soldiers.
Nihon-Jan Katana: a medium-sized or long Nihon-Jan sword. It is slightly curved with a round cross-guard. The warrior-class of the Senshi are the only ones who can carry it. 
Practice Sword
Saber
Scimitar: a medium-sized sword with a curved blade. It is mostly used by the Arridi. The Temujai also use a variant kind of sword.
Shortsword
Skandian sword: a medium-sized sword used by Skandians, Sonderlanders, and Teutons. They are recognizable by their large pommel.
Takoba: a short sword with a rectangular cross-guard and a diamond-shaped pommel. It is used by the Tualaghi, Bedullin and other desert tribes.
Wakizashi: a small Nihon-Jan sword, handy for indoor fighting. Because of its length it is allowed for merchants to carry it.