The
Royal Army
was a
Senshi
military force that was loyal to
Emperor Shigeru
, and by extent,
Nihon-Ja
. The Army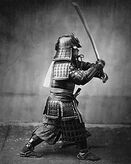 was mainly stationed in the capital city of
Ito
. When the warlord
Arisaka
took over the city, only forty Senshi of the army survived, and joined Shigeru. They fought in the
Ran-Koshi
battle against Arisaka's men. One notable member was an officer named
Miko
.