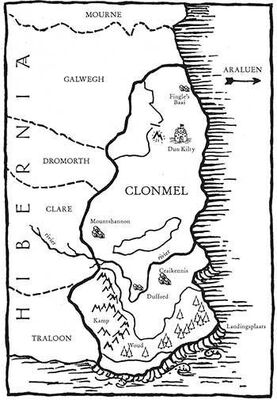 Mourne, or officially the Kingdom of Mourne, is the northenmost kingdom of Hibernia. Its only border is shared with the kingdom of Galwegh. Mourne also borders the Western Ocean in the northwest and the Street of Hibernia in the east.
Seeing as how Hibernia is clearly based on Medieval Ireland, Mourne probably represents the northernmost kingdom of Ireland, Ulster.
Although Mourne isn't mentioned in the books, it is on a map of Clonmel and eastern Hibernia featured in the Dutch versions of The Kings of Clonmel and Halt's Peril.