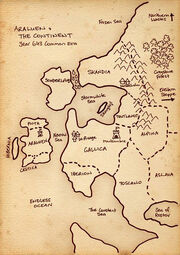 Luciano is a Genovesan Assassin who appeared in The Kings of Clonmel. He is a secondary Antagonist of The Kings of Clonmel.
The Kings of ClonmelEdit
Luciano was hired by Tennyson as an assassin. The first job we see him doing was to kill a bandit named Kelly, who had brought bad news to Tennyson. He was later ordered to poison Horace's water before the latter fought Gerard. Will caught him and tricked him into revealing he had poisoned Horace, subsequently challenging Luciano to a duel.
They stood about one hundred meters apart, Luciano using his crossbow and Will his longbow. Luciano fired first, but missed by about a meter. Will fired right after, instinctively sending the arrow half a meter to his left at the last moment, sensing Luciano would try to avoid the shot. As Will had predicted, the Genovesan stepped slightly aside, right into the path of the arrow.