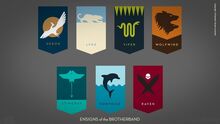 When young Skandians are about to be initiated into the Skandian society as young warriors they first need to pass through a series of tests.
They pass (or fail) these tests in groups of several boys, known as Brotherbands. One is the skirl, or captain of the ship and the others take a position below him.
Notable Brotherbands in the series are the Herons and the Sharks.
Brotherband Training
Edit
Main article: Brotherband Training
List of Brotherbands
Edit
This is a list of brotherbands and all their known members which appear throughout the series.
The Herons: Hal, 

Stig, 

Edvin, 

Ingvar, Wu

lf, U

lf, Stefan, and 

Jesper

The Wolves: Rollond, Dell, Anton, Henjak, Bjorn, other unnamed recruits
The Sharks: Tursgud, Knut, Dominic, other unnamed recruits